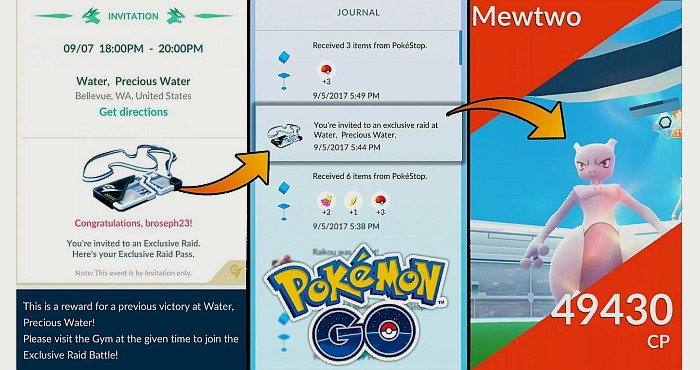 Recently Pokémon Go has offered another feature which is called "Ex Raid". This feature is available for selective players who have to fight against the powerful Pokémon named as "Raid Bosses" within a limited time. And also require huge amount of CP that can be 10 times powerful than the normal creature.
"Ex Raid" was reportedly a battle against a renowned Pokémon Mewtwo that is going to happen in the selected gyms and was in testing mode yet.
Passes of Ex Raid were not available everywhere for everyone. They were supposed to be sent to the trainers of few selected places who have won the recent battle at specific gym with a high score and terrible performance. The players were supposed to be at the specific Gym to capture Rare Pokémon. According to resources, these passes were sent to few players in Wisconsin and Oconomowoc.
Before a day, when a battle was supposed to start, the Passes of players of Pokémon Go for "Ex Raid" were disappeared. And the worst thing about that is, this all happened without any update and notification. And later on the player found that the selected Gyms were also removed from the locations.
And due to removal of gym the entire event was disappeared from the Pokémon Go.
Although there may be a specific issue and would be a good practice to cancel the battle. But there should be at least one notification for the player to update them about the cancelation of the battle.
The player of Pokémon Go MisterHelmke shared a post on Reddit about his experience to get Ex Raid Pass .He shared that he received Ex Raid Pass after completing the battle at the St. Matthews Lutheran Church.
The representative of Niantic who is the developer of Pokémon Go Commented on a post of MisterHelmke on Reddit  that "When a location is removed from the game ahead of an EX Raid, the EX Raid Pass will automatically be removed from your inventory". He added that Ex Raid is still under Field Testing to make more improvements.
Now let's see how this entire matter turns out and what better is going to be a part of the game events. And let's wait for the complete testing of the EX Raid so that it turn out to be a flawless event for the players